Articles
A new Late Devonian isoetalean lycopsid from New South Wales, Australia: Cymastrobus irvingii gen. et sp. nov.
Plain Language Abstract
The Lycopsida represent important components of the Australian floras during the Devonian. Whereas lycopsid fossils remain abundant in the latest part of the Devonian, they consist mainly of stems and branches of Leptophloeum, a genus of worldwide occurrence. Lycopsids, therefore, seem poorly diversified in Australia during this time interval. In this paper, we describe a large lycopsid cone from a locality of north-eastern New South Wales dated from the end of the Devonian. The cone consists of a narrow axis bearing densely arranged fertile leaves producing numerous megaspores in the basal sporangia and microspores distally. The anatomy of the cone axis combined with the morphology of the fertile leaves and that of the spores correspond to a new genus, suggesting that the Late Devonian diversity of Australian lycopsids may have been underestimated.
Keywords: Palaeozoic; Gondwana; Lycopsida; reproductive organ; new genus; new species
Resumen en Español
Una licópsida isoetal del Devónico Tardío de Nueva Gales del Sur, Australia: Cymastrobus irvingii gen. et sp. nov.
Las licópsidas son abundantes en las asociaciones de plantas terrestres tempranas de Australia, lo cual condujo a los conceptos de una "flora de Baragwanathia", que se extiende desde el Silúrico tardío al Devónico Temprano, y una "flora de Leptophloeum", que caracteriza el Devónico Tardío. Sin embargo, el estatus taxonómico y afinidades sistemáticas de un gran número de restos de licópsidas del Devónico de Australia están pobremente resueltos. Se desconoce la contribución de dichas licópsidas a la diversificación del grupo y la evolución de las licópsidas rizomórficas. En este trabajo investigamos la organización tridimensional de un nuevo cono preservado estructuralmente usando microtomografía de rayos X con radiación sincrotrón. Este cono bisporangiado grande y compacto, el cual fue colectado en Barraba, una localidad fameniana del norte de Nueva Gales del Sur, representa un nuevo género, Cymastrobus. Sus esporofilos están compuestos por una lámina pobremente preservada y un pedicelo largo y estrecho que se ensancha distalmente y posee una quilla abaxial y un talón. Los megasporangios contienen un alto número de megasporas. El cuerpo central de las mismas muestra varias filas de pequeñas estructuras circulares rodeando la marca trilete. Los restos de microsporas son del tipo Endosporites. Cymastrobus es cercano al género contemporáneo Bisporangiostrobus y al taxón carbonífero Flemingites. Puede haber ocupado una posición basal en la filogenia de las licópsidas rizomórficas.
Palabras clave: Paleozoico; Gondwana; Lycopsida; órgano reproductivo; género nuevo; especie nueva
Traducción: Diana Elizabeth Fernández
Résumé en Français
Une nouvelle lycopside isoetaléenne du Dévonien Supérieur des Nouvelles Galles du Sud, Australie: Cymastrobus irvingii gen. et sp. nov.
Les lycopsides sont abondantes dans les premiers assemblages australiens de plantes terrestres pour lesquels on a défini une "flore à Baragwanathia" s'étendant du Silurien supérieur au Dévonien Inférieurl et une "flore à Leptophloeum" caractérisant le Dévonien Supérieur. Cependant, le statut taxonomique et les affinités systématiques d'un grand nombre de fossiles de lycopsides du Dévonien d'Australie sont mal résolues. La contribution de ces lycopsides à la diversification du groupe et plus particulièrement à l'évolution des lycopsides rhizomorphiques est inconnue. Dans cet article, nous investiguons l'organisation tri-dimensionelle d'un nouveau cône à structure conservée grâce à la microtomographie par rayonnement X de source synchrotron. Ce cône bisporangié large et compact qui a été récolté à Barraba, une localité famennienne du nord des Nouvelles Galles du Sud, représente un nouveau genre, Cymastrobus. Ses sporophylles comprennent une lamina mal conservée et un pédicelle long et étroit qui s'élargit distalement et présente une quille abaxiale ainsi qu'un talon. Les mégasporanges contiennent un grand nombre de mégaspores. Leur corps central montre plusieurs rangs de petites structures circulaires entourant la marque trilète. Les restes de microspores sont de type Endosporites. Cymastrobus est proche du genre contemporain Bisporangiostrobus et du taxon carbonifère Flemingites. Il a probablement occupé une position basale dans la phylogénie des lycopsides rhizomorphiques.
Mots-clés : Paléozoïque ; Gondwana; Lycopsida; organe reproducteur; nouveau genre ; nouvelle espèce.
Translator: Authors
Deutsche Zusammenfassung
Ein neue spätdevonischer isoetaleaner Lycopside aus New South Wales, Australien: Cymastrobus irvingii gen. et sp. nov.
In Australien kommen Lycopsiden häufig in frühen Landpflanzen-Assemblagen vor, was zum Konzept einer "Baragwanathia Flora" (spätes Silur bis frühes Devon) und einer "Leptophloeum Flora" (charakteristisch für das späte Devon) geführt hat. Doch der taxonomische Status von zahlreichen Lycopsiden-Überresten aus dem Devon von Australien und die systematische Zugehörigkeiten sind nur unzureichend geklärt. Über den Beitrag solcher Lycopsiden zur Diversifikation der Gruppe und über die Evolution der rhizomorphen Lycopsiden ist nichts bekannt. In dieser Arbeit untersuchen wir den dreidimensionalen Aufbau eines noch unbekannten strukturell erhaltenen Konus mit Röntgen-Synchrotron-Mikrotomographie. Dieser große und bisporangiate Konus, der aus Barraba, einer Lokalität in New South Wales aus dem Famenne stammt, repräsentiert eine neue Gattung Cymastrobus. Seine Sporophylle bestehen aus schlecht erhaltenen Lamina und einem langen, schmalen Pedicel das sich distal erweitert und einen abaxialen Kiel und Absatz besitzt. Die Megasporangia enthalten eine große Anzahl an Megasporen. Ihr zentraler Körper zeigt mehrere Reihen kleiner, runder Strukturen, die die triletische Markierung umgeben. Die Microsporen-Überreste sind vom Endosporites-Typ. Cymastrobus ist der heutigen Gattung Bisporangiostrobus und dem karbonischen Taxon Flemingites ähnlich. Es hatte möglicherweise eine basale Position in der Phylogenie der rhizomorphen Lycopsiden inne.
Schlüsselwörter: Paläozoikum; Gondwana; Lycopsida; Reproduktionsorgan; neue Gattung; neue Art
Translator: Eva Gebauer
Arabic
in progress

Translator: Ashraf M.T. Elewa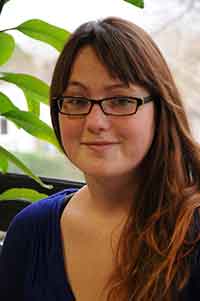 Mathilde Evreïnoff. Amap - BotAnique et Modélisation de l'Architecture des Plantes et des végétations, CNRS, CIRAD, INRA, IRD, Université de Montpellier, Montpellier, France. This email address is being protected from spambots. You need JavaScript enabled to view it.
Mathilde Evreïnoff got a master degree in palaeontology, palaeobiology and phylogeny at the University of Montpellier. She left the academic world to become a teacher in Life and Earth Sciences at Creteil, near Paris. She is also involved in the promotion of the links between culture and science for adults and schoolchildren.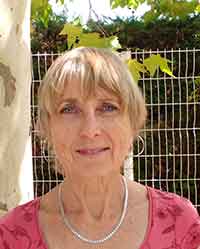 Brigitte Meyer-Berthaud. Amap - BotAnique et Modélisation de l'Architecture des Plantes et des végétations, CNRS, CIRAD, INRA, IRD, Université de Montpellier, Montpellier, France. This email address is being protected from spambots. You need JavaScript enabled to view it.
Brigitte Meyer-Berthaud is a CNRS Research Director in a laboratory dedicated to the modeling of plant architecture and vegetation in Montpellier, southern France. She is a palaeobotanist with a main interest on the Devonian and Early Carboniferous plants that evolved modern morphologies. She is specialized in anatomically preserved plants and is currently involved in the study of floras from Australia and Morocco, that correspond to the former Gondwana paleocontinent.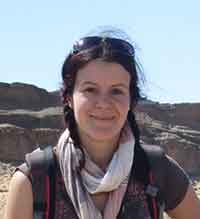 Anne-Laure Decombeix. Amap - BotAnique et Modélisation de l'Architecture des Plantes et des végétations, CNRS, CIRAD, INRA, IRD, Université de Montpellier, Montpellier, France.
This email address is being protected from spambots. You need JavaScript enabled to view it.
Anne-Laure Decombeix is CNRS researcher in the department "Botany and modeling of plant architecture and vegetation" in Montpellier, France. She has a PhD in palaeontology from the University of Montpellier and was a postdoctoral researcher at the University of Kansas. She works on plants from the Palaeozoic and early Mesozoic, with a particular interest for the diversity and biology of fossil trees and for the fossil floras of Gondwana. Recent fieldwork has taken her to Australia and Antarctica.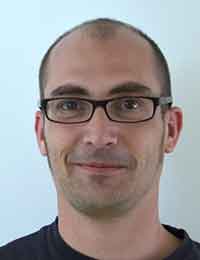 Renaud Lebrun. Institut des Sciences de l'Evolution de Montpellier, CNRS, IRD, Université de Montpellier, Montpellier, France. This email address is being protected from spambots. You need JavaScript enabled to view it.
Renaud Lebrun is a research engineer at the CNRS, and the head of the µCT department of the Montpellier Ressources Imagerie (MRI) platform. The µCT facilities he manages are housed at the Institut des Sciences de l'Evolution de Montpellier (ISEM). R. Lebrun develops 3D analysis softwares and the websites of the scientific journals Palaeovertebrata and MorphoMuseuM. He is a vertebrate palaeontologist, specializing in mammals and notably primates.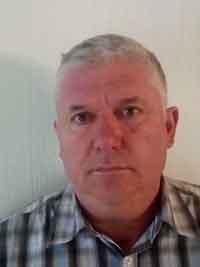 Philippe Steemans. Département de Géologie, Unité de recherche PPP, Université de Liège, Campus du Sart Tilman, Quartier Agora, Allée du 6 Août, 14, Bât. B-18, B-4000 Liège 1, Belgium. This email address is being protected from spambots. You need JavaScript enabled to view it.
Dr. Philippe Steemans is a researcher in Palaeozoic palynology. His work is focused on Ordovician, Silurian and Devonian miospores from all continents, but preferentially from Saudi Arabia, Africa, South America and Europe. He is a specialist of cryptospores and he studies the invasion of continents by the earliest land plants. His main scientific interests are related to taxonomy, biostratigraphy, palaeoecology, and palaeogeography.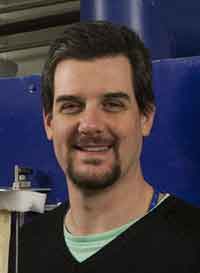 Paul Tafforeau. European Synchrotron Radiation Facility, 71 avenue des Martyrs, CS-40220, F-38043 Grenoble cedex 09, France. This email address is being protected from spambots. You need JavaScript enabled to view it.
Dr. Paul Tafforeau is a beamline scientist at the European synchrotron Radiation Facility. He is primarily a palaeontologist working on primate teeth microstructrure and development. He became a specialist in X-ray imaging applied on fossils and developed the palaeontology activities at the ESRF. Scientific interest are related to dental development, human evolution, evolutionary biology, X-ray imaging and instrumentation.
FIGURE 1. Cymastrobus irvingii gen. et sp. nov. NMVP 161998. 1, General view of the cone; cone axis at arrow. 2, Distal part of cone axis in transverse section. 3, Detail showing the stele (St) and five sporophyll traces at arrows. 4, Detail showing the wavy outline of the xylem ring, presumed location of the phloem (Ph), inner cortical cells (IC) and three sporophyll traces at arrows. 5, Detail showing the emission of a sporophyll trace from a groove of the primary xylem ring.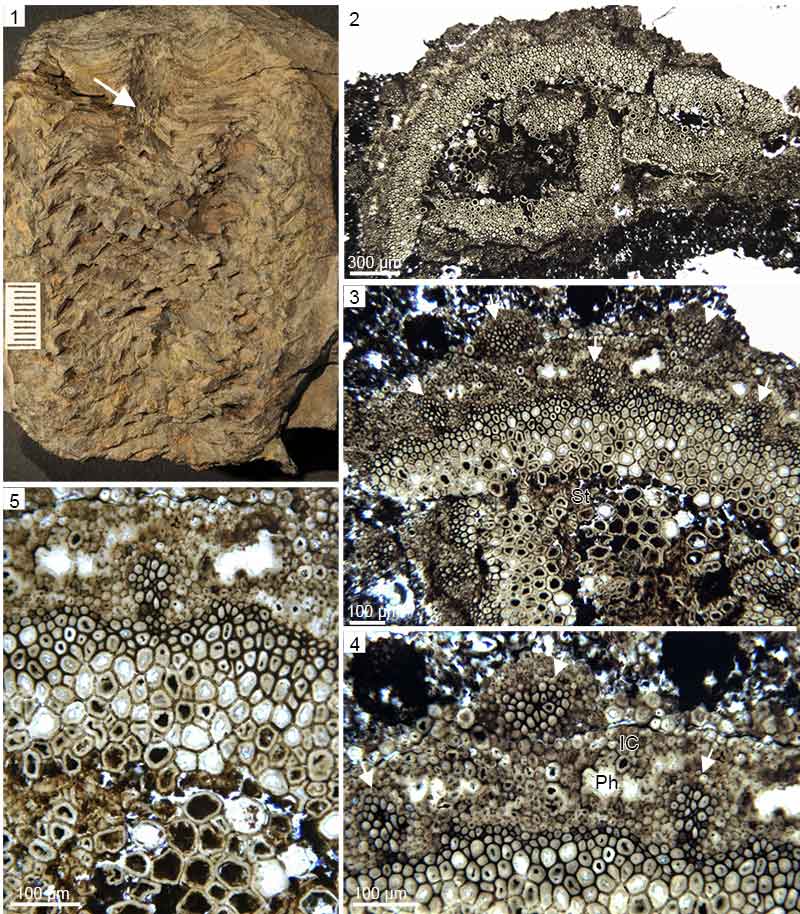 FIGURE 2. Cymastrobus irvingii gen. et sp. nov. NMVP 161998. Virtual sections, X-Ray synchrotron microtomography. 1, Cone in tangential section. 2, Cone in radial section; note the proximal position of the megasporangia. 3, Cone axis in transverse section. 4, Outer portion of the cone in tangential section showing four sporophyll-sporangium units in longitudinal row. 5-8, Inwards to outwards series of tangential sections through the cone showing the progressive changes in size of the sporophyll pedicels (P) and the sporangia (S).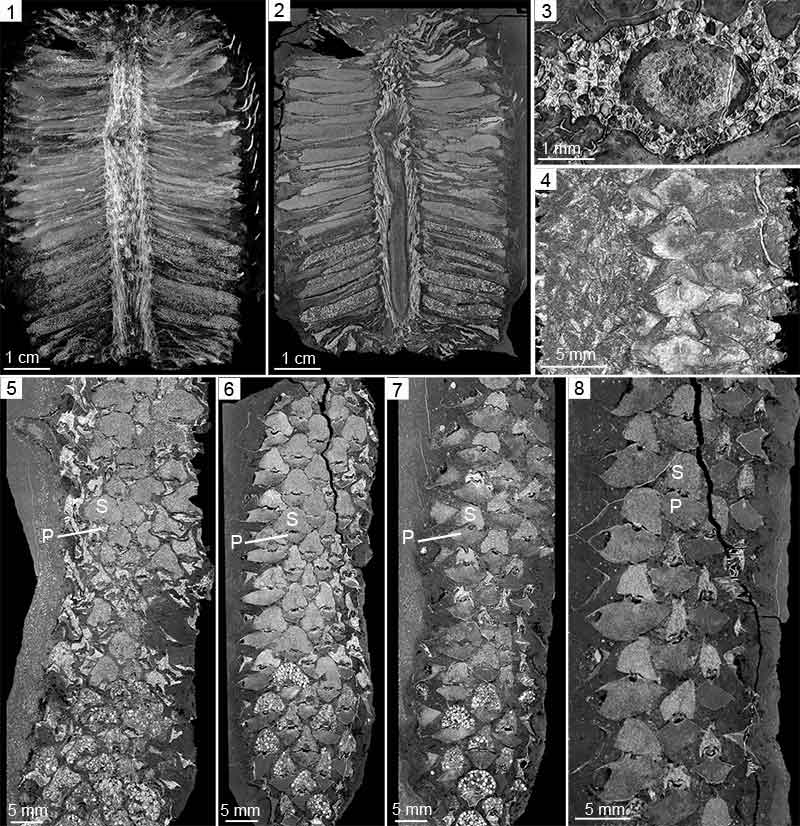 FIGURE 3. Cymastrobus irvingii gen. et sp. nov. NMVP 161998. Virtual sections, X-Ray synchrotron microtomography. 1-5, Proximal-distal series of longitudinal sections through a sporophyll-sporangium unit; note the heel (H) in 1, keel (K) in 2 and 3, microsporangium (mS) and longitudinal pad of tissue (P) in 4 and 5, vascular strand (VS) in 5.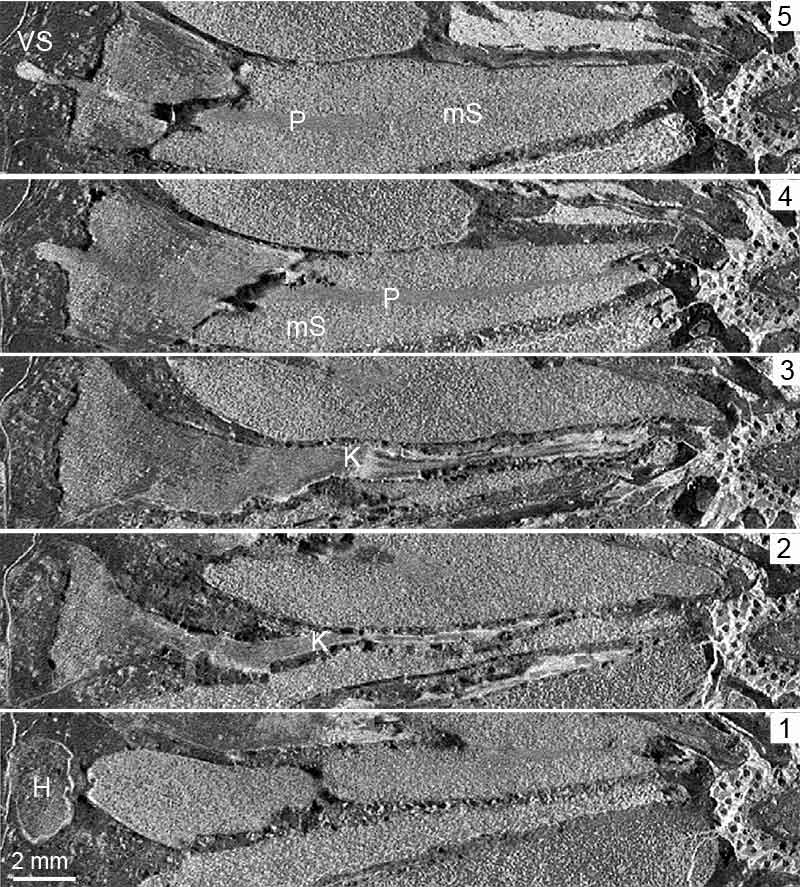 FIGURE 4. Cymastrobus irvingii gen. et sp. nov. NMVP 161998. Virtual reconstructions and volume rendering visualization of chosen anatomical units within the X-Ray synchrotron microtomography scan. 1-2, General view of the cone showing two reconstructed sporophyll-sporangium units, the proximal one producing megaspores, the distal one microspores. 3, Reconstructed sporophyll showing the enlarging pedicel and dissected lamina. 4-5, Two reconstructed sporophyll-microsporangium units in profile view. 6-7, Two reconstructed sporophyll-megasporangium units in profile view. VS: vascular strand.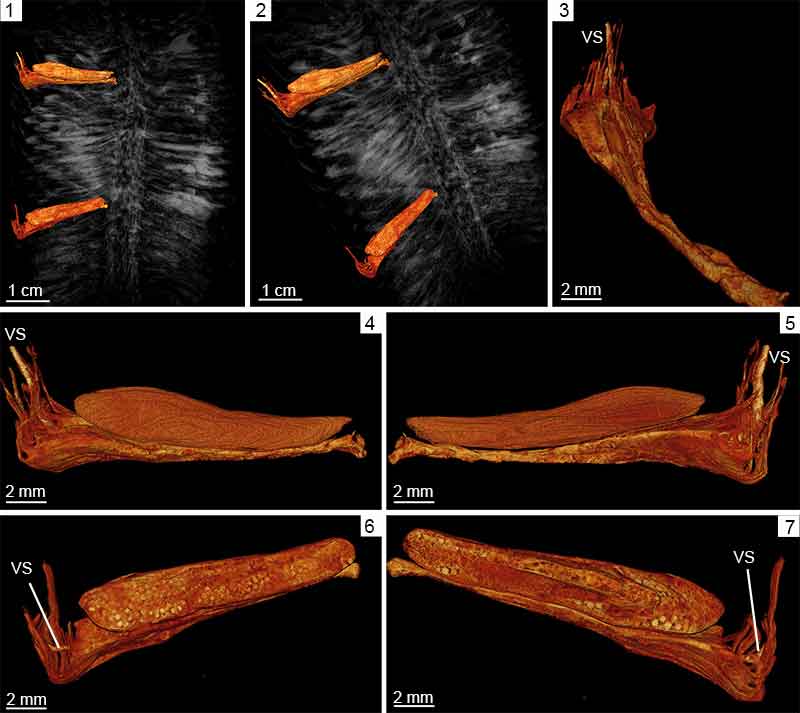 FIGURE 5. Cymastrobus irvingii gen. et sp. nov. NMVP 161998. 1, Cast of a megaspore central body showing numerous small circular pores arranged in several rows around the trilete mark. 2, Detail of previous view. 3, Casts of microspore central bodies; the largest one shows three pores between the rays of the trilete mark (arrows).