Article number: 20.2.1N
https://doi.org/10.26879/792
Copyright Paleontological Society, June 2017
Submission: 14 June 2017. Acceptance: 17 June 2017
{flike id=1910}
Valeria I. Mikhalevich. Zoological Institute of the Russian Academy of Sciences, Universitetskaya Nab.,1, 199034 St. Petersburg, Russia,
Key words: foraminifera, genus, new name
Final citation: Mikhalevich, Valeria I. 2017. New name for the foraminiferal genus Olgia. Palaeontologia Electronica 20.2.1N: 1-2. https://doi.org/10.26879/792
palaeo-electronica.org/content/2017/1910-new-name-for-olgia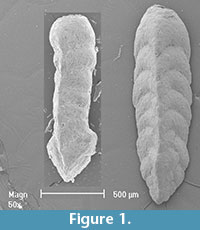 The name of the new foraminiferal genus Olgia Mikhalevich, 2011 published in Mikhalevich (2011) is preoccupied by Olgia Radoszkowskii, 1877, a genus of wasp (Radoszkowskii, 1877, p. 33). Thus Olgia Mikhalevich, 2011 is a junior homonym of Olgia Radoszkowskii, 1877.
Olgita is here proposed as a new name for Olgia Mikhalevich, 2011 (see Figure 1).
Its taxonomic position remains unchanged:
Phylum FORAMINIFERA d'Orbigny, 1826
Class ROTALIATA Mikhalevich, 1980
Subclass TEXTULARIANA Mikhalevich, 1980
Order VERNEUILINIDA Mikhalevich and Kaminski, 2004
Superfamily CHRYSALIDININOIDEA Neagu, 1968
Family OLGIIDAE Mikhalevich, 2011
Genus OLGITA Mikhalevich pro Olgia Mikhalevich, 2011
zoobank.org/984F9FC3-6B07-47A6-AE94-7124915BB5DD
Type species. Clavulina pacifica Cushman 1924, Publ. 342. Carnegie Institute. Washington, 1924, p. 22, pl. 6, figs. 7 - 11.
REFERENCES
Mikhalevich, V.I. 2011. The new genus Olgia and new family Olgiidae (Textulariana, Foraminifera). Micropaleontology , 57:173 - 182.
Radoszkowskii, O. 1877. Sphegidae. In Voyage au Turkestan d' A.P. Fedtchenko, Fasc. 14, tome 2, partie 5. Известия Императорского общества Любителей Естествознания, Антропологии и Этнографии при Императорском Московском Университете [Izvestiya Imperatorskogo Obshchestva Lyubiteley Estestvoznaniya, Antropologii i Étnografii pri Imperatorskom Moskovskom Universitete], 26:1-87.